---
Powerful Partnerships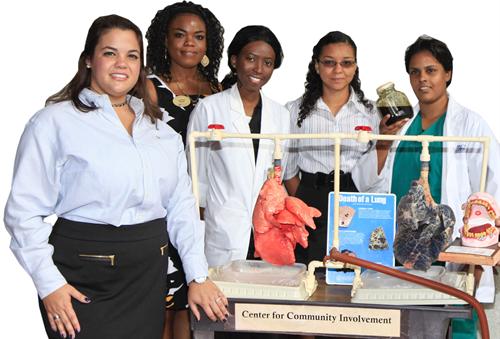 Exposing Teens to the Toxic Truth
Taking college nursing and health science lessons into middle and high-school classrooms, 10 MDC students are leading a massive service-learning project to tackle the national health issue of teenage smoking. Their campaign, called "Toxic Truth: They're Rich, You're Dead," is designed to keep young people from ever smoking in the first place.
The team of MDC nursing, dental hygiene and respiratory care students have been awarded a generous and prestigious grant from the State Farm Youth Advisory Board to train 100 of their Medical Campus classmates who then in turn will work with 1,000 youths at Andover Middle School. In addition, the MDC advisory board will bring 60 health career students from two Miami high schools to Medical Campus and coach them to be peer educators at their own schools, reaching nearly 6,000 teens at North Miami and South Dade Senior high schools.
One in Hundreds
Committed to addressing community issues through philanthropy, State Farm is a national leader in youth-directed, service-learning initiatives, awarding $5 million each year in grant funding, said State Farm Public Affairs Community Specialist José Soto.
"For its outstanding teaching and community work, MDC's Medical Campus was chosen as one of just 69 recipients nationwide to receive this grant out of 969 applicants," Soto said.
Impactful Presentations
The MDC team will use the funding to create educational materials, including their "Toxic Truth" program featuring a dual-lung display that shows the breathing capacity of a healthy lung versus one that developed lung cancer after exposure to cigarette smoke. The kit also includes a "Tar Jar" containing the amount of tar that accumulates in the lungs in just one year for a pack-a-day smoker, along with a dental model called "Mr. Gross Mouth," demonstrating the dental damage and tooth decay caused by cigarettes.
"Smoking is not hip or pretty," said nursing major Jennifer Nunes, who grimaced as she opened the diseased jaws of Mr. Gross Mouth. "This campaign will definitely get kids to think before ever taking that first puff."
— BK
More Powerful Partnerships Articles