---
Cultural Spotlight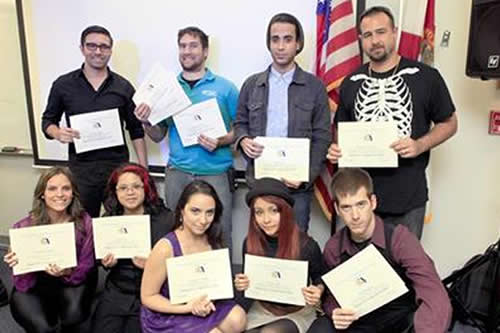 A Winning Mix of Words and Art
With a captivating collection of fiction and photos, illustrations and essays, Hialeah Campus' student literary magazine Café Cultura received a prestigious Gold Crown Award this spring from the Columbia Scholastic Press Association.
Following in MDC's strong tradition of award-winning literary magazines, Café Cultura was chosen from more than 1,300 entries submitted by colleges and universities throughout the U.S. and Canada. A panel of esteemed judges in December evaluated the student newspapers, magazines and yearbooks, focusing on every detail, from writing, editing and design to content, concept, photography, art and graphics. Winners of the Gold and Silver Crown Awards were announced in March at the College Media Convention at Columbia University in New York City.
Exceptional Student Vision
"The whole magazine is student-created," said MDC Professor Victor Calderín, who serves as one of the faculty advisors for Café Cultura along with Professor Ivonne Lamazares. "We advise and help them, but it's entirely student-driven."
Café Cultura brings together a rich variety of perspectives, with staff and contributors including part-time students and full-time working parents along with recent high school graduates who are still choosing their academic paths.
Six Stellar Magazines
Café Cultura is one of six outstanding student literary magazines produced at MDC, including Metromorphosis (Wolfson Campus), Axis (North Campus), Miambiance (Kendall Campus), Urbana (InterAmerican Campus) and the recently launched Estuaries (Homestead Campus).
The winning installment of Café Cultura included fiction, photography, poetry, a mini-graphic novel, student artwork and Spanish-language pieces to reflect the diversity of the student body.
The executive staff of the Gold Crown issue includes Nerys Torralbas, editor in chief; Elizabeth Fernández, lead designer; Leslie Alfonso, copy editor; and Sadiel "Speedy" Ruiz, lead photographer.
– MM
More Cultural Spotlight Articles