---
Cultural Spotlight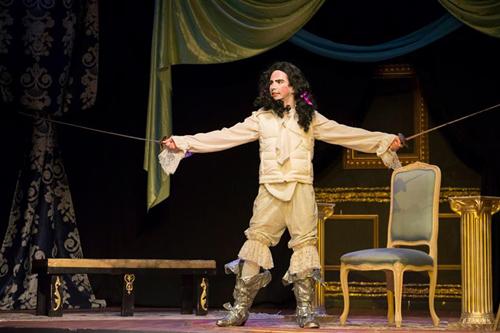 Star of Stage and Printed Page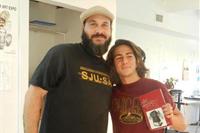 Since graffiti is a theme in some of his poems, Guillermo Rodríguez enjoyed meeting graffiti artist Trek Six, left.
Putting complex ideas into beautiful words comes easily for Miami Dade College student Guillermo Rodríguez, and that literary gift recently helped him win a YoungArts Merit Award.
"For me, writing is one of the simplest methods of creative expression," said Rodríguez, who was born in Uruguay and moved to Miami when he was in elementary school. "It allows me to create conversation, a character, a song or just an eloquent arrangement of words."
Expanding His Horizons
The young poet is now developing all these talents in his classes at MDC's North Campus, where he currently is studying theater with plans to branch out next semester into music and then film production and editing.
"In Professor Andy Quiroga's theater class, we do lots of improvisational exercises to develop our creativity, which also helps me as a writer," he said.
Taking a Chance
At the insistence of his girlfriend, who was impressed with his poetry, Rodríguez entered six poems in the YoungArts competition. His work dealt with diverse themes, from love and misfortune to music and graffiti.
The YoungArts competition is sponsored by the National YoungArts Foundation, which was founded in 1981 by the late Carnival Cruise Lines founder Ted Arison and his wife, Lin Arison, who is an MDC alumna. The Foundation grants awards to high school and college students for their outstanding artistic abilities. Continuing its tradition of artistic excellence, MDC is proud to have the Foundation recognize Rodríguez's great work.
— BK
More Cultural Spotlight Articles