---
Features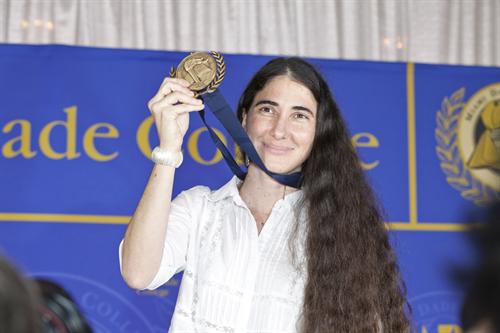 Speaking Freely
Internationally acclaimed and much followed Cuban blogger Yoani Sánchez recently spoke at the College's National Historic Landmark Freedom Tower, where she enthralled the audience with a message of unity, solidarity and freedom of expression that often brought the crowd to its feet in the iconic and fitting venue.
After her remarks, which were streamed live on the Internet, Sánchez was honored with the prestigious Miami Dade College Presidential Medal for championing human rights. Past honorees have included Lech Walesa, Mikhail Gorbachev, President Bill Clinton, José María Aznar, Alvaro Uribe, Madeleine Albright and other renowned international leaders.
U.S. Sen. Bill Nelson was on hand to present Sánchez with the flag that was flying over Washington during her visit to the capital days earlier. She also received the key to the city of Miami from Mayor Tomás Regalado and the key to the city of Doral from Mayor Luigi Boria.
Sánchez is no stranger to MDC. She appeared at the 2011 Miami Book Fair International via phone call and a pre-recorded video message. Earlier this spring via phone, she participated in the live broadcast Avanza Cuba, a collaborative endeavor between MDC and TV Martí (see story above). However, the more recent event at the Freedom Tower marked the first time she appeared in person.
"It is such an honor to have Yoani speak not only at what we affectionately call Democracy's College, but also at the Freedom Tower. I can think of no better venue for this historic conversation in Miami," said Dr. Eduardo J. Padrón, president of Miami Dade College. "This is a momentous event for our stu-dents and the community."
— Staff Report
More Features Articles