---
Features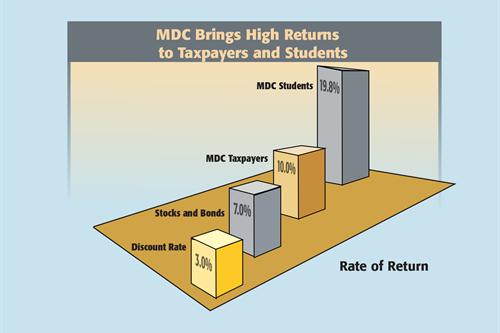 MDC Lifts Economy by $3.3 Billion
At a time when many economic challenges exist for our state and nation, a recent study by Economic Modeling Specialist Inc. (EMSI), a provider of employment data and economic analysis, found that the average annual added income to the community due to the activities of Miami Dade College (MDC) and its former students equals $3.3 billion.
"This study reinforces the major role that Miami Dade College plays in the community as its great equalizer. We are very proud of the many contributions that MDC has made academically, culturally and economically. However, MDC's greatest contribution is the people, nearly 2 million alumni," said Dr. Eduardo J. Padrón, president of MDC. "This study reconfirms the College's commitment to provide its students with the knowledge, skills and values they will need to succeed, and as a result the entire community benefits."
The study also shows that Florida benefits from improved health and reduced welfare, unemployment and crime, with MDC saving the public some $35.4 million per year. In addition, taxpayers see a rate of return of 10 percent on their investment in MDC.
Ultimately, alumni reap the greatest benefits, since MDC students receive a 19.8 percent rate of return on  every dollar that they invest in their education at the College. Students earn a cumulative $6.50 in higher future hourly income (discounted) over the course of their working careers. Compared with high school graduates, associate degree earners make $11,000 more per year, on average, and bachelor's degree holders make nearly $30,000 more annually. Putting to use their exceptional skills and boosting productivity for Florida employers, Miami Dade College students expand the state's economic base by contributing $575.8 million in taxable income.
— Staff Report
More Features Articles