---
Features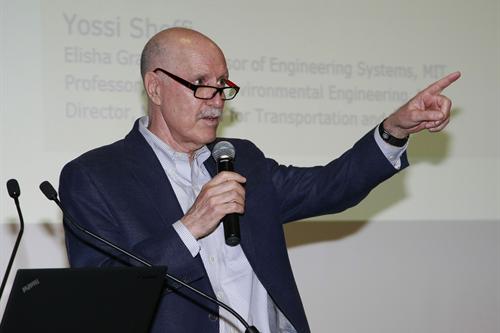 Speaker Series Draws Industry Leaders
Known for drawing relevant and respected speakers from around the globe, Miami Dade College recently welcomed noted transportation and logistics expert Dr. Yossi Sheffi to launch this year's School of Business Speaker Series with a discussion of his latest book.
Primed for Growth
Sheffi, a professor of engineering systems at the Massachusetts Institute of Technology (MIT) and director of MIT's Center for Transportation and Logistics, brought valuable insights to the theory of logistics clusters – a topic of great interest in South Florida, a region widely known as the "gateway to the Americas."
"I am excited that Dr. Sheffi was able to showcase the magnitude of this growing industry and all the opportunities it brings for Miami's workforce," said Thania Ríos, associate dean of MDC's School of Business. Sheffi's presentation was a fitting complement to MDC's Women in Transportation event and announcement of the College's proposed new bachelor's degree in supply chain management starting next year.
Empowering Information
At the packed event, Sheffi made a compelling case for the most important advantage offered by logistics clusters in today's recession-plagued economy: jobs, many of them concentrated locally and therefore not "offshorable." For this reason, numerous regional and central governments as well as scores of real estate developers are investing in the development of such clusters.
"It was refreshing to hear from someone who is at the top of his field, and his message really got me thinking," said MDC alumnus Javier Rodríguez, who is currently working on a Bachelor in Management Information Systems at Florida International University. "After hearing his presentation, I might try to refine my current path more toward logistics, especially since it ties into my interest in efficiency. It gives an actual direction to something I like already."
— AMS
More Features Articles