---
Features
Checkmate!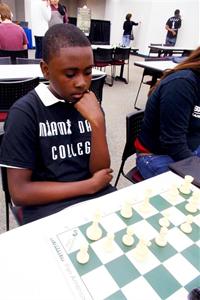 Deep in thought, a player plots his next move at MDC's ninth annual chess tournament.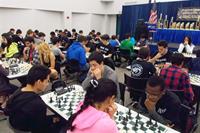 This year's tournament included 87 players from 29 high schools competing for MDC scholarships.
Those who associate youth with frivolity have never witnessed the hushed intensity of a high school chess tournament. Despite uncertain times and limited support for high school chess programs, response was enthusiastic when MDC hosted the Ninth Annual Dr. Armando J. Bucelo Sr. High School Chess Tournament. Participation is growing for the popular competition, in which winners receive impressive $2,000 scholarships to Miami Dade College. Many participants have gone on to play for MDC's renowned chess team that has been one of the best in the nation during the past decade.
This year, 87 players from 29 high schools waged riveting battle across checkered boards.
"The initial games unfolded in absolute silence," said Dr. René García, MDC's director of enrollment management who organized the tournament along with teamwork from MDC's Ana Maria DeMahy and Christina Ferreras. "But it's difficult to keep almost 90 high school students quiet for long, and things got more lively as games concluded. A unique thing among chess players is a tendency – win or lose – to hang around after the game and analyze, and say, 'Oh, I should have done that!'"
In the team competition, South Dade Senior High School took first place; Miami Senior High School, second; Southwest Miami Senior High, third; and Southridge Senior High placed fourth.
The individual winners, each awarded a $2,000 scholarship, were David Sassine, Miami Senior High School, best overall; Thomas Zerquera, Miami Palmetto Senior High, 12th grade; Anthony Otero, Hialeah Senior High, 11th grade; Alejandro Acosta, Hialeah Gardens Senior High, 10th grade; and José Machado, Miami Beach Senior High School, ninth grade.
— NG
More Features Articles