---
Making Their Mark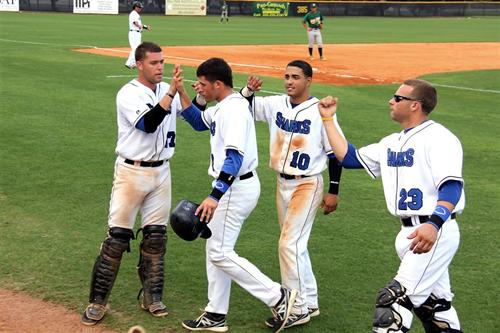 A Baseball Scout's Paradise
The Miami Dade College baseball team, which has been ranked No. 1 in the nation on two occasions this year, recently won the Southern Conference championship.
In addition to that triumph, freshman third baseman Víctor Caratini was named the Southern Conference Player of the Year after hitting .361 and leading the team in doubles (13), homers (7) and RBIs (64).
Caratini, who is originally from Puerto Rico and also was named All-State, is one of seven Miami Dade College players who earned first-team all-conference honors this season. He is joined on the list by pitchers Kyle Carter and Ivan Pelaez, catcher Danny De La Calle, shortstop Robert Negrón, and outfielders José Gómez and All-State selection Omar García.
Scores of Scouts
MDC Coach Danny Price, this year's Southern Conference Coach of the Year, said professional coaches have taken notice of his talented roster.
"There have been as many as 40 scouts at our games," Price said. "The pro scouts are well aware of our reputation for excellence when it comes to producing baseball stars at MDC."
Major League Legacy
That reputation was built by major-league players such as Raúl Ibáñez, Plácido Polanco, Mike Piazza, Andrés Torres, Alex Fernández, Bucky Dent, Warren Cromartie, Mickey Rivers and many more. Now it's up to the current generation to keep the momentum going, and scouts believe that at least six of the players on this year's roster could be drafted this June.
Four current MDC players already have agreed to scholarships at four-year schools, including catcher Roberto Llera, who signed with the University of Florida. In addition, middle infielder Mikal Hill signed with North Carolina-Charlotte, middle infielder Jesus Pintado committed to Marshall and right-handed pitcher Carson Baranik signed with Louisiana Lafayette.
— WV
More Making Their Mark Articles