---
Making Their Mark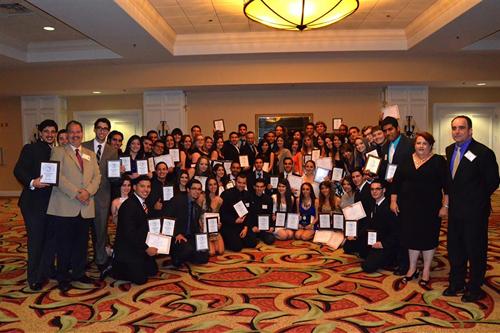 They're All Business
MDC business students – 86 in all, from Kendall, North, InterAmerican and Wolfson campuses – may have been nervous on the way to Orlando earlier this spring for the Phi Beta Lambda State Leadership Competition, but they were relaxed and elated on the way back home after nabbing more first- and second-place wins than any other college or university in Florida.
Between their arrival and departure, 42 competitions took place for these top-ranking students of business and business-related fields. In project events, they prepared material beforehand and presented their results live. Other events required students first to take an exam, then 10 finalists were given a case study and 10 minutes to prepare before presenting solutions to the judges. Finally, in "impromptu speaking" events, students relied on general knowledge and adrenaline, addressing topics without any time to prepare.
"The atmosphere was fun, and students were able to bond more than they would normally," said Professor María Mari, who teaches in the School of Business at MDC's Kendall Campus. "When they perform well against juniors and seniors from other universities and colleges, it boosts their confidence."
Indeed, Mari was moved to see a student whom she had pushed to compete in the accounting finals. "He really didn't think he could do it," she said. "Students walked off stage in ascending order, and the student who was from the University of Florida – known for its accounting program – took fourth place and left. MDC took third. Only when second place, also MDC, left and he was alone on stage did it dawn on him that he had won first place."
The 40-plus MDC first- and second-place winners earned a trip to California for the national competition.
— NG
More Making Their Mark Articles