---
COVERSTORY
2 Million Strong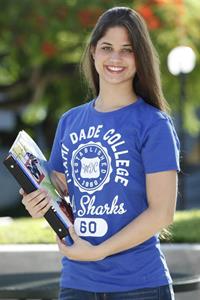 Tatyana Rivera is the 2 millionth student to be admitted to Miami Dade College.
More than 50 years ago, Miami Dade College proudly opened its doors to its first 1,428 students with the idea that anyone with a desire to get a college degree should be given that opportunity. Few of the College's earliest leaders likely could anticipate this fledgling community college would grow to become the largest college in the nation. And now MDC, whose humble beginnings included classrooms built on the site of old chicken coops in northwest Miami, can celebrate another landmark achievement: the recent admission of its 2 millionth student.
First Choice
Pre-med student Tatyana Rivera couldn't be more excited to start her college career at MDC's Kendall Campus this fall – with or without the distinction of being lucky 2 million.
"MDC has always been my first choice for all sorts of reasons," said Rivera, a Miami native and recipient of the College's American Dream Scholarship, which covers up to two years' tuition for high school graduates in Miami Dade County who meet academic requirements.
"I had many family members and friends who told me I would get a great education at MDC," said Rivera, whose older brother graduated with his pre-law degree and twin sister will be attending as well. "I knew that I wouldn't be academically shortchanging myself, and I would have so many opportunities within my reach."
The aspiring pediatrician said MDC's flexible course scheduling allows her to arrange her classes around her work schedule and keep her job as an after-school aide at a local elementary school. She also likes that she has the option to transfer after two years or complete MDC's four-year degree in biological sciences as a stepping stone to medical school.
"I knew MDC was the best place for me to make the transition from high school to college," she said. "And I know someday I'll be a successful professional, and I'll look back and say 'It all began at MDC.' "
Meaningful Benchmark
The admission of its 2 millionth student is an amazing accomplishment considering the College is located in a community that now registers a population of 2.5 million. At its most recent Commencement in May, MDC graduated more than 13,000 students from 184 countries. It's estimated in a recent study that the activities of MDC and its alumni add $3.3 billion annually in income to the local community.
Its 2 millionth admission is the latest milestone in a string of achievements over the last five decades that include being Florida's first racially integrated junior college when it was founded in the early 1960s and becoming the largest college in the state of Florida just seven years later.
Over the years, Miami Dade College has grown to eight campuses and evolved into an exceptional and diverse learning environment that also celebrates more than 300 academic programs, including four-year degrees in several disciplines; talented and dedicated faculty; frequent visits by distinguished personalities; relevant and impactful cultural programming with headline events such as Miami International Film Festival and Miami Book Fair International; an Honors College program hailed by Time magazine as a stepladder to the Ivy Leagues; and collegewide initiatives that help students to succeed at MDC and beyond.
— AMS