---
Cultural Spotlight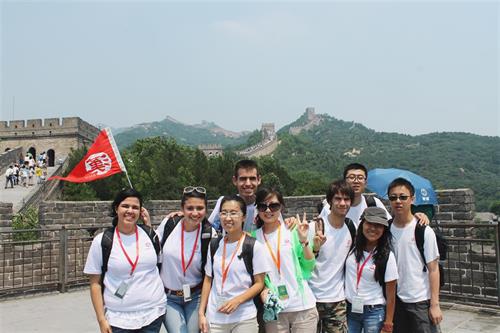 Excelling in Beijing
Ten hard-working students from Miami Dade College were among just 29 chosen nationwide for a highly selective summer program at the Beijing International Chinese College (BICC) in China.
The two-week camp promotes dialogue and understanding between young people in the United States and China. Miami Dade College's students, by far the largest single group from the U.S., joined those from other prestigious schools, including Arizona State University, the University of Chicago and the University of North Carolina at Chapel Hill.
"We were thrilled that so many of our students got accepted," said Dr. Xuejun (Jim) Yu, director of MDC's Confucius Institute. "Applicants must show excellent academic performance and have a willingness to explore other cultures."
Firsthand Experiences
During their stay, students visited cultural sites, such as the Great Wall of China, and met their counterparts in Chinese schools and universities. They took classes in Mandarin Chinese, painting and calligraphy, and they participated in enriching cultural events, including a tea ceremony.
The program, which provides lodging, tours, language classes and meals, is sponsored by Hanban/Confucius Institute headquarters in Beijing and organized by BICC.
The large number of MDC students selected this year reflects growing enthusiasm for the Chinese language, culture and economy and showcases the critical role MDC's Confucius Institute plays in piquing students' interest.
Impressive Reach
The Institute, which was established in 2010, is a partnership between MDC, the Office of Chinese Language Council International (Hanban) and Xuzhou Normal University (now Jiangsu Normal University) in China. About 200 students participate in its programs annually.
"We offer all types of cultural activities to help our students learn more about China," Dr. Yu said. The Institute also supports MDC's valuable study abroad programs in China, giving students a chance to better understand one of the world's richest and most powerful countries.
This fall, five MDC students will spend an entire semester in China after winning prestigious Confucius Institute Scholarships offered by Hanban. The students, who have to show language proficiency, be in good academic standing and be recommended by the Institute, will take Chinese language and cultural courses and participate in cultural activities at Jiangsu, MDC's sister university in China.
— Staff Report
More Cultural Spotlight Articles