---
Cultural Spotlight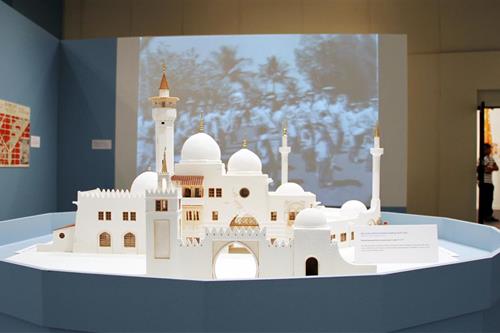 A Thousand and One Beautiful Delights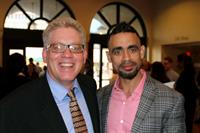 It was a proud day for MDC Professor José Vázquez, right, and MDC archivist René Ramos when the MDC exhibition featuring Opa-locka architecture opened at HistoryMiami museum.
It took three years of meticulous work by MDC Professor José Vázquez and his students, but it all paid off recently at the opening of their spectacular exhibition featuring the unique architecture of the City of Opa-locka.
"There were about 50 students who contributed," Vázquez said of the work recently displayed at HistoryMiami museum. "Some produced drawings and some did models based on those drawings. Through their efforts, hopefully people will come to appreciate Opa-locka's one-of-a-kind beauty. Architecturally, it represents a very important era of Miami's history."
Opa-locka was founded in 1926 by aviation pioneer Glenn Curtiss, who commissioned New York-based architect Bernhardt Muller to design the city's buildings in the style of The Arabian Nights, a collection of tales that trace their roots back to ancient and medieval Middle Eastern folklore and literature. Located in Northwest Miami-Dade County, Opa-locka is believed to be the nation's only Moorish Revival city.
The exhibition, curated by Vázquez, also showcased original drawings and architectural models. More than 30 Opa-locka buildings are considered historic, including the old City Hall and railroad station. Common architectural elements include arched hallways, domes and towers. Many of Opa-locka's estimated 105 structures built in the "Arabian Nights" style have been substantially altered or lost, but fortunately others still remain.
"One of the objectives of our exhibition is to help protect the architecture of Opa-locka, which is in dire need of preservation," Vázquez said. "Opa-locka is a very diverse neighborhood, and the people are very proud of their history. This serves as an important reminder of how architecture can uplift a community."
— WV
More Cultural Spotlight Articles