---
Features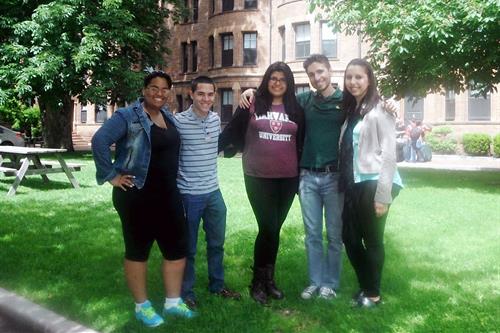 MDC's Harvard Heroes
As a result of the strong partnership between MDC and the Harvard Kennedy School's Center for Public Leadership, five of Miami Dade College's top students recently attended the prestigious Latino Leadership Initiative (LLI) in Cambridge, Mass.
Launched in 2010, this weeklong program prepares promising leaders of tomorrow for the opportunities and challenges they will face in the coming decades. These exceptional students —most of them the first in their families to attend college — complete a rigorous curriculum taught primarily by Harvard faculty. The program includes sessions on public narrative, community organizing, negotiation, moral leadership, public speaking, the arts and activism.
Each One Teach One
This year, recent MDC graduate Marilyn Figueroa was among the 42 students chosen for the Initiative. During her second semester at MDC, she participated in the inaugural cohort's leadership development program, 305 Rise. The following year, she became a mentor and coach during the second cohort's initiative, called "Heating Up for Change." This past year, she was one of five MDC students selected for the LLI from a highly competitive pool of applicants.
"I am incredibly grateful for every opportunity that Miami Dade College has provided for me," Figueroa said. "Harvard's Latino Leadership Initiative has given us the platform, network and inspiration to actively pursue our dreams."
Unique Encounters
Guest lecturers included former Mexican President Felipe Calderón; Johnny Marines, manager of the former musical group Aventura; top-selling solo artist Romeo Santos; and award-winning journalist María Hinojosa. Students were treated to many impactful moments. For example, Calderón agreed to give a 15-minute speech but then stayed for more than an hour with students, discussing the vulnerabilities of a leader and, for the first time, opened up about the most challenging aspects of his presidency.
"The LLI provides an intimate atmosphere for world leaders to share their views and experiences on leadership," said LLI Program Manager Dario Collado. "That is a testimony to the magic that happens here."
The other members of this year's cohort from MDC include Wendy Ruiz, John Alvarez, Shely Ward and Adrián Suárez. After their week in Cambridge, they will work with MDC's Institute for Civic Engagement and Democracy to design and implement a community service project.
"The LLI went beyond simple leadership development," Figueroa said. "It was a celebration of life and the awakening of the potential for greatness that lies within each of us. I fully intend on paying it forward."
— Staff Report
More Features Articles