---
Features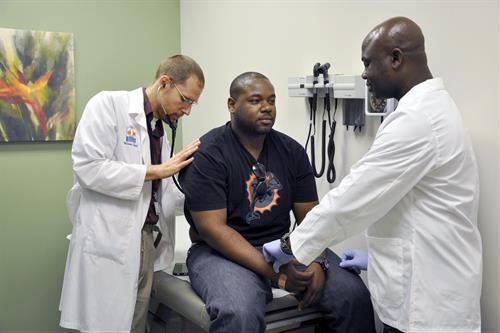 Medical Campus Clinic Welcomes Community
The Wellness Clinic at MDC's Medical Campus has expanded its operations with more hours and staff to provide in-demand services to an even larger population thanks to a generous grant from the Health Foundation of South Florida.
Community Benefits
The funds, coupled with a 2012 grant from the Peacock Foundation, have enabled the Clinic to staff the facility full time with a physician assistant and nurse practitioner and open its doors to the community at large in addition to MDC students and employees. It offers preventative care, including wellness exams, drug screenings and gynecological services, as well as sick visits and urgent care services including X-rays, lab tests and minor wound treatment.
"Through the outreach we have done with our annual free Community Health Fair that has been conducted for the past eight years, we have found that our community is not having their health care needs met in the manner that they deserve because there are barriers such as cost," said Dr. Mark Everett, chair of MDC's School of Health Sciences. "The low-cost care that we are now providing at the clinic to the local community is certainly care that they would otherwise go without, so we are serving a very important role in improving the health of our community."
Hands-On Learning
In addition to filling that health care gap, the Clinic provides a valuable opportunity for students in the College's various health care programs to gain hands-on experience working with patients. For example, physician assistant students observe and help treat patients alongside the health care professionals while medical assistant students manage the front desk and make appointments. Health information technology students also rotate through the clinic and collect data from patients.
— Staff Report
More Features Articles