---
Features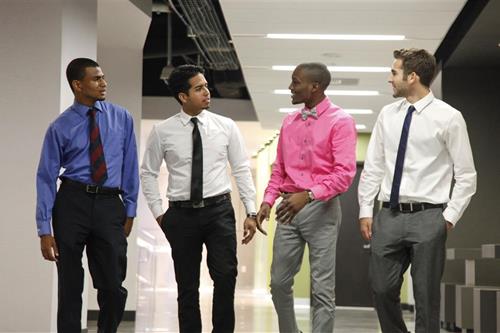 A Jump-Start on Great Jobs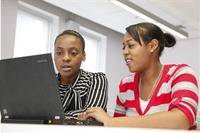 Jeanne Edmond and Leshia Merkerson put the concept of teamwork into action.
Year Up Miami recently celebrated its trailblazing partnership with Miami Dade College and the accomplishments of their inaugural class with a graduation ceremony at Wolfson Campus in Downtown Miami.
Furthering MDC's goal of making sure graduates are job-ready when they receive their diplomas, the program provides students with professional skills and work experience while they earn a degree.
Ready for Great Careers
Through Year Up's Professional Training Corps (PTC) initiative, students attend college full time for one semester, taking academic as well as Year Up courses that focus on skills such as business etiquette and networking. They then participate in a six-month professional internship where they further their career readiness skills while receiving college credits toward an associate degree.
The partnership between Year Up and MDC has been lauded in the national media, including The New York Times, Forbes magazine and The Huffington Post. Wolfson Campus launched Year Up in the fall of 2012, joining a number of colleges across the nation that share the program's mission of closing the education and opportunity gap in urban communities.
Inspiring Success Stories
The jubilant graduation ceremony featured keynote speakers Barry Johnson, CEO of the Miami Greater Chamber; Year Up founder Gerald Chertavian; and Year Up Graduate David Frederick, who spoke about how the program and its professional training initiative have set him on the road to success.
"I loved my internship at AT&T because the company is so large that it is easy to grow and advance," Frederick said. "Best of all, working there I know that I'm helping people everywhere stay connected."
— Staff Report
More Features Articles