---
Features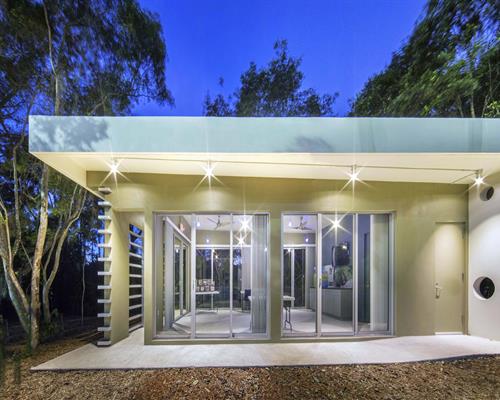 Leading the Way in Beauty and Efficiency
Environmental sustainability is often associated with a wholesome return to the days of yore, so rarely do gorgeously modern buildings come to mind as models of green living. Yet earlier this spring, the sleek, efficient design of the Environmental Center Visitors Pavilion at MDC's Kendall Campus was awarded Platinum LEED certification. Standing for Leadership in Energy and Environmental Design, the internationally recognized green building designation drives home the point that a "sustainable" building also can be technologically avant-garde and stylistically stunning.
The exemplary structure replaces the time-battered chickee hut that once offered shelter in poor weather to the thousands of school children who visit Kendall Campus' nine-acre Environmental Center each year. Today, the building itself is a learning tool. Funded by a U.S. Department of Housing and Urban Development grant, this gem was realized through generous donations in kind and in time by general contractor Coastal Construction, architect Hamed Rodríguez and the project's many subcontractors.
"It is a living classroom that illustrates state-of-the-art green technologies at work in the real world. Visitors from the community, local schools and MDC learn how we can live sustainably and comfortably while reducing our carbon footprint," said David Lotker, Wolfson Campus chair for Continuing Education and Professional Development, who oversaw the construction. "It also shows that MDC backs up its environmental commitments and Learning Outcomes initiatives – in this case familiarizing MDC graduates with natural systems and the impact of humans on the environment."
The building is completely "off the grid," meaning it generates its own electricity with solar panels and batteries designed to store energy for three sunless days. Its roof slopes slightly to collect rainwater used for the indoor facilities and to water the garden. The construction materials also are sustainable, from the VOC-free paint that releases far fewer noxious chemicals to the locally sourced Forest Stewardship Council-certified wood cabinets. Even the tired chickee hut received new life as mulch and borders for plant beds.
Perhaps most striking is the natural beauty everywhere visible through the floor-to-ceiling windows and the enthusiasm that the building generates: Its dance card is filling rapidly as more departments and professors book the unique space for meetings and classes. This is not your grandpa's log cabin.
— NG
More Features Articles