---
Features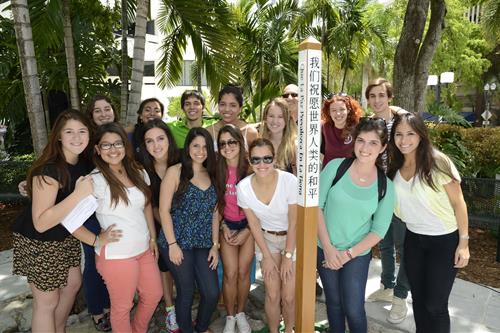 Entering the Zen Zone
In the summer, with heat visibly blasting off concrete pavements, most of us think Downtown Miami sure could use a green oasis, but few of us take action. That's why Felipe Betancor's foray into urban revitalization is so unique. When the MDC Honors College student saw an unloved patch of land on Wolfson Campus, he realized it offered the perfect opportunity to share his love of nature with fellow students. He planted the idea among friends in Dr. Gary Davis' Interdisciplinary Studies Honors Leadership Seminar IV (IDH), and from there, the garden quickly grew.
"The support we've had from the College and Director of Campus Administration Fermín Vázquez is tremendous," Betancor said. "The maintenance guys were great and helped us with everything. Fairchild Tropical Botanic Garden donated lots of plants. MDC's Earth Ethics Institute and Science Department helped – even a physics professor offered to calculate measurements."
In keeping with a recycle-reuse credo, plants faring poorly were relocated; rocks previously strewn around were collected and given a shape and an idea; pavers left over from construction at Kendall Campus were given new life; and mulch made of tree clippings from all MDC campuses was spread.
Today, visitors to Wolfson Campus will notice a peaceful glade just off Building 1's reflecting pool. The spot offers a cool respite in the middle of the thriving metropolis.
Nature had figured out that change was afoot before the project was finished: Butterflies floated among the students as they worked, and tiny warblers darted among the bushes.
Other students also took note. "We had just started planting – we were still trudging around with pots and tools – and kids were already migrating into the area," said Biology Professor Chris Migliaccio, who guided the work on the ground. "We have shade and green, tables and WiFi – a paradise for 20-year-olds!"
— NG
More Features Articles