---
Features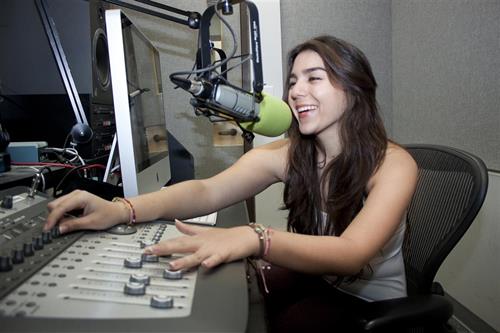 Streaming Into the World of Radio
Giving a voice to Miami Dade College's student body, the Internet-based MDC Radio station is putting broadcast students behind the soundboard, letting them gain valuable experience and find their own voices in the process.
"It's a student-operated station open to all MDC students," said Fernando Mollinedo, faculty member and radio station manager for the program at MDC's School of Entertainment & Design Technology. "The premise is to give students hands-on experience in everything having to do with the real-life, day-to-day operations of a radio station."
Streaming pre-recorded shows from MDC's Kendall Campus on mdcradio.org, MDC Radio is not a typical broadcast station. It doesn't operate on a radio frequency but, from a learning standpoint, students get the same experience they would in a traditional on-air setting, with the added safety net of being able to prepare shows ahead of time.
"This nurturing setup encourages them to try anything, including mistakes, until they find their voice," Mollinedo said.
Mollinedo lends students a hand in producing shows, teaching them how to edit, manage playlists and deal with the logistics of keeping the station streaming, all while fulfilling his other duties as a graphic arts and design instructor. But as producers, talk-show hosts, disc jockeys and editors, students ultimately are responsible for the station's content and operations on a platform that is already yielding lots of tangible on-air successes.
Andrea Sanmiguel, a mass communications major who hosts MDC Radio's hip-hop and indie music show, attributes this experience to helping her land an internship at Y100 Miami – one of the region's most popular radio stations – as an assistant producer, blog editor and event organizer.
"MDC Radio has definitely prepared me for my future plans, giving me the knowledge and the confidence to pursue any type of medium out there," Sanmiguel said.
— HP
More Features Articles