---
Making Their Mark
Catapulted to Success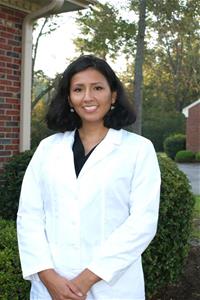 A successful dentist in North Carolina, Dr. Norma Cortez learned the discplined approach she needed to excel from her coaches and professors at MDC.
The Miami Dade College women's volleyball program has helped several of its star players become pros.
Dr. Norma Cortez, who helped MDC win national volleyball titles in 2001 and 2002, is one of those outstanding former players excelling more than a decade later. But now she's shining in another court. After the golden victories for MDC, the proud MDC alumna is a successful dentist in North Carolina.
Cortez, who went on to play for two years as a part-time starter at the University of North Carolina, said she's grateful to her former MDC coaches, Hall of Famer Ilida Medero and Kiko Benoit. The latter was an assistant at that time and is now entering his ninth season as MDC's head coach.
The Rewards of Rigorous Training
"They were wonderful," Cortez said of her coaches. "They were hard and firm when they had to be, which is just what we needed."
Cortez, who is 5-10 and was born in Lima, Peru, was a setter in her playing days. MDC was looking for help at that position, and Cortez was recommended by a friend who was already on the team. Cortez sent the coaches a video of herself in action, and her life was forever changed from that moment forward.
Now 30, Cortez is set to get married later this year. She has put down roots in North Carolina and still keeps in touch with the strong network of friends she created while at MDC.
Academic Excellence
Her alma mater won an amazing seven national titles in women's volleyball from 1986 to 2004, but she said the school was about much more than sports.
"Miami Dade College has an excellent academic reputation," said Cortez, who was voted the Most Valuable Player of the 2002 MDC team that finished the season undefeated. "I knew a minimal amount of English when I got to Miami, but I studied hard. Thanks to MDC, I had not only a great athletic career but also a wonderful profession afterward."
— WV
More Making Their Mark Articles