---
MDC News Bytes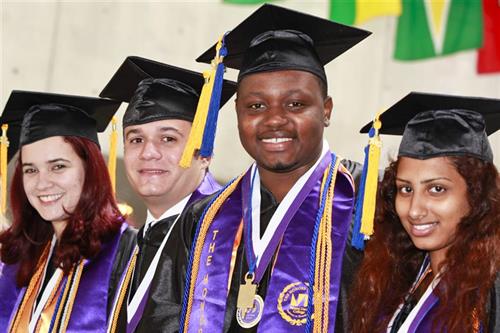 Dream Factory at Work
For more than five years running, Miami Dade College has been the key to academic success for tens of thousands of students.
Measured by the number of students who have graduated, left for other institutions in good standing or are still enrolled, MDC's "success rate" has been more than 86 percent since 2008, according to the State Accountability Measures.
Reaching New Heights
Perennially graduating the highest number of Hispanic students in the United States, Miami Dade College is proud to see this cohort concretely improving their outcomes in completion and grades. Hispanic students at MDC lifted their GPAs from a prior five-year average of 2.66 to 2.79 in the 2012-13 academic year.
While MDC's Hispanic student body is continually improving its performance, there have also been substantial gains in completion rates. In 2012-13, Hispanic students earned 8,533 associate and 408 bachelor's degrees. This is a dramatic increase from the previous five years, when they averaged 5,967 associate and 271 bachelor's degrees for each year.
Academic Performance
Students at Miami Dade College receiving Pell Grants are more likely to either remain enrolled in studies or complete an associate degree when compared to higher income students (students not receiving a Pell Grant). Students with multiple barriers (minority status and low income) show higher levels of academic performance than expected. Low income students also maintain higher cumulative grade point averages than higher income peers.
Grads Laud MDC
MDC consistently produces graduates who leave with much more than a degree in hand – they leave with a sense of satisfaction about their experience at the College.
MDC's Graduate Survey provides important feedback on the factors that helped graduates succeed at MDC. Some of the results show:
94 percent of graduates were very satisfied or satisfied with their experience with the College.
88 percent of graduates rated the overall quality of instruction as excellent or good.
Graduates' perceptions of the College's contributions to their ability levels on MDC's 10 Learning Outcomes increased to 79 percent from 77 percent in 2009-10. 
— Staff Report
More MDC News Bytes Articles