---
Cultural Spotlight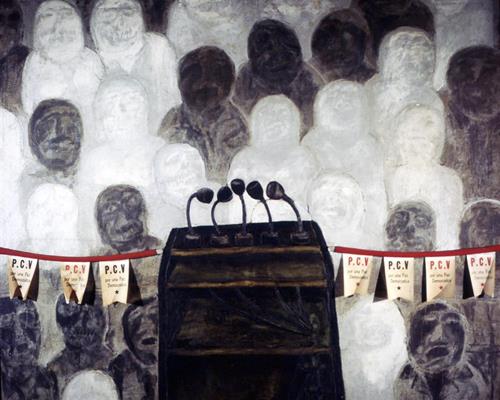 Season of Sophistication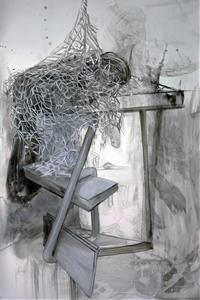 'Veiled at Dr. Yao's' by Sara Stites
With the 2013-14 season of art, Miami Dade College's Museum of Art + Design (MOAD) is solidifying its profile as one of the region's most cosmopolitan institutions dedicated to the visual arts.
An enthralled crowd packed MOAD at MDC's National Historic Landmark Freedom Tower to see one of fall's first shows, Antonia Eiriz: A Painter and Her Audience. More than 400 visitors came to the museum on opening night to see the work of legendary Cuban artist Antonia Eiriz. Pronounced "the artist of the tragic" by the great Cuban poet and literary critic Roberto Fernández Retamar, Eiriz, who died in 1995, expressed through her artwork the physical and emotional pain that she suffered from polio.
Kindred Spirits
Also kicking off the season was Elaborate Webs/Striking Exploits, a two-person exhibition of paintings and drawings by Kansas City-based Anne Austin Pearce and Miami artist Sara Stites. Webs and other elements of nature are common threads in both artists' works. However, MOAD Executive Director and Chief Curator Jeremy Mikolajczak identified a deeper connection. "Both Pearce and Stites are mid-career female artists, navigating the realities of the art world in this post-feminist era," said Mikolajczak. "This perspective inspires and informs their work."
Elaborate Webs and Antonia Eiriz both remain on view at the Museum through Nov. 17.
Looking Back, Forward
At the nearby Centre Gallery at the College's Wolfson Campus, Havana Revisited brings the architectural heritage of the Cuban capital into focus. Created by artist Cathryn Griffith, the exhibition documents the history, preservation and current use of Havana's prime buildings and urban spaces. The exhibition runs from Nov. 18 through Feb. 14.
Fast forward to Miami's winter art fair season and art lovers will have much to look forward to at MOAD with Rituales en Haití, a series by Magnum Photo photographer Cristina García Rodero. Known for traveling around the world to photograph ethnic festivals, García documented Voodoo rituals in this series, capturing expressive portraits and moving scenes that narrate as much as they beg the viewer to fill in the blanks. Rituales en Haití debuted at the 2001 Venice Biennale but its MOAD presentation marks García's first solo museum exhibition in the United States.
Peeking into the new year, in January the Museum presents an exhibition of assemblages and collages by Leonard Turkel, a pioneer of the Florida condominium boom. A highly successful entrepreneur, behind the scenes Turkel was also an artist whose works reflected his own morals. Aptly titled Following Your Own Sense of Justice, the show opens Jan. 13 and runs through March 29.
Love for MOAD
Valentine's Day will be truly heartfelt next year as MOAD celebrates with Paper Hearts, its first annual fundraiser, on Feb. 13. The undoubtedly fun event will feature a silent auction of paper works, artist performances, music, cocktails and more, all in the spirit of love for the museum.
— MR
More Cultural Spotlight Articles