---
Cultural Spotlight
Public Art Project Puts Face on Immigration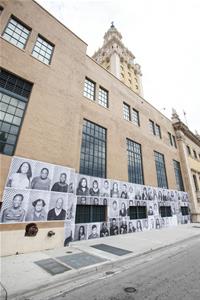 MDC's Freedom Tower helped put a face on undocumented immigration as the site of 'Inside Out,' a public art project by French artist JR.
Miami Dade College's National Historic Landmark Freedom Tower, once famously the site of a processing center for newly arrived refugees, recently became the canvas of a public art project centered on immigration reform.
Inside Out, a worldwide project by award-winning French artist JR, aims to put a face on undocumented immigration by collecting portraits of people and strategically displaying them on exterior walls, pavement and prominent screens in major cities. Since December 2012, more than 120,000 people from more than 108 countries have participated in Inside Out around the globe, volunteering to be photographed for the project. Over the course of two days, people lined up to have their photos taken at the Freedom Tower to be a part of the historic installation.
— MR
More Cultural Spotlight Articles