---
Features
Bye-Bye Queue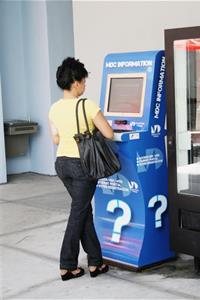 With MDC-Q, students avoid queueing up for student services by simply signing in at a kiosk and waiting anywhere on campus for a text message to tell them when it's their turn.
Miami Dade College continues to find ways to make life better for its students, and its new MDC-Q system is just another shining example of success. With MDC's massive student body – more than 175,000 people on eight large campuses – advisement and enrollment time often resulted in long lines streaming from student services offices.
Why Stand When You Can Sit?
Now MDC-Q has streamlined the process, making it possible for students to relax anywhere on campus – from the library to the café – until someone can assist them. Students simply visit one of several kiosks on campus, select the service they need and get a ticket with a number. They are given an anticipated wait time and can choose to be notified by text message alerting them when they are fifth, third or next in line.
"In the first couple of months since MDC-Q was rolled out on our campus, we had 30,000 students check-in through the system," said Janelle Fernández, chief information officer at InterAmerican Campus. "In essence, MDC-Q is a ticketing system on steroids."
Great Idea Spreads
Currently in place at both InterAmerican and Kendall campuses, MDC-Q soon will be implemented collegewide.
"One of the best features of the system is that our managers can see where the longest wait times are and adjust coverage according to trends," Fernández said. "MDC-Q is a giant leap forward toward improving our customer service on campus."
— WV
More Features Articles