---
Features
Univision Honors an MDC Superhero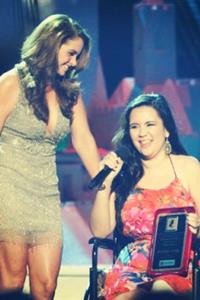 Mexican singer and actress Lucero, left, presented the prestigious Univision award to MDC student Andrea Viejo, who had recently broken her leg in a fall.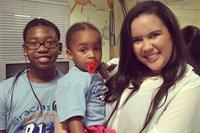 Andrea Viejo put her spirit of giving to great use by working with children at Ronald McDonald House.
The willingness to help those in need is always alive and well at Miami Dade College, and Andrea Viejo, 21, is a great example of the responsible global citizenship that pervades MDC's campuses.
Viejo, who has a 3.4 GPA and is studying psychology at Kendall Campus, recently won an impressive award from Univision. Presented with the Spanish-language network's first annual Súper Heroína de la Comunidad de Premios Juventud (Super Community Hero Youth Award), Viejo recently was honored for her tireless community service, most notably for her frequent visits to hospitals to cheer up sick children.
"Andrea is Miami Dade College," said Raynel Kinchen, Kendall Campus' Student Life specialist and activity board advisor. "From the first day I met her, Andrea has always given her all to MDC."
Putting Kids First
Viejo's love for community service began at age 13 when she volunteered at the Ronald McDonald House, a nonprofit organization with sites in 52 countries that serve as a home away from home for families to stay while their children are receiving medical treatment.
"I've always been inspired to help others," Viejo said.
At age 15, it was Viejo who needed tender loving care. After experiencing repeated headaches, Viejo finally told her mother, who took her to a doctor. The vibrant teen was soon diagnosed with a benign but inoperable brain tumor. Viejo's health is fine, but she has to follow up with MRIs every year just to make sure.
Her goal now is to complete the associate degree at MDC by the spring of 2014, continue on with a bachelor's and eventually work with children who have autism.
A Radiant Light
In the meantime, Viejo is the "sunshine of Kendall Campus," according to Kinchen.
"Andrea makes everything look so effortless, even though she works very hard," Kinchen said. "I think having the tumor has made her an even better person and has made her more understanding of people with different abilities.
"She's a giving person. And I think MDC has given her an outlet for all her energy. MDC has allowed her to grow and develop in the right environment. She's in her element here."
— WV
More Features Articles