---
Features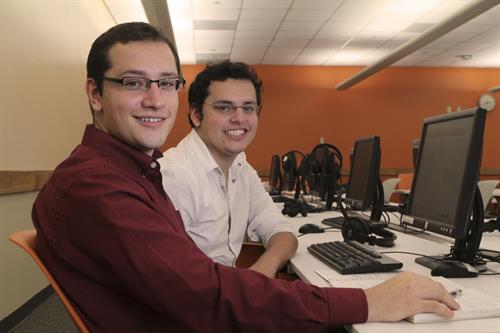 A Twin Commitment to Academic Excellence
When they both were in high school, Samuel Karkassoni and his twin brother Salomon had to take on jobs to pay the rent and the rest of their bills when their mother took on the full-time work of caring for their ailing grandmother.
But despite having to struggle to make ends meet, the twins – now both MDC students – have flourished in their classes. So much so, in fact, that Samuel recently received the prestigious Francisco Foundation Award given each year to one student for outstanding community service, academics, leadership and demonstrated love for democracy and freedom. The scholarship award honors the memory of Rogelio "Francisco" González Corzo, who was executed at age 28 in 1961 by Fidel Castro's regime for efforts to subvert the Cuban dictatorship.
Exemplary Student
With his 3.41 GPA and his devotion to helping others, Samuel was an ideal recipient of this award. While he has never had to fight for freedom, he knows about the battle for survival.  
Born in Miami Beach, he and his brother were given a choice by their mother three years ago to stay in South Florida or follow her to Peru to aid their ailing grandmother. The young men chose to remain in their homeland and got jobs at a sandwich shop in Aventura Mall to make ends meet.
Currently, Samuel is a recruiter for a health care management company. He works up to 35 hours a week and takes 12 credits a semester at MDC, where he is studying business. In addition, he is the vice president of the Phi Theta Kappa honor society at InterAmerican Campus, where he coordinates MDC service-learning activities, such as volunteer work for TECHO, a nonprofit organization seeking to eradicate poverty in Latin America.
"Having such a full schedule is challenging," said Samuel, "but you find the time."
On track to graduate from MDC in May, Samuel plans to study information technology at the University of Virginia.
Achieving Dreams Together
Samuel's brother Salomon, who has a 3.3 GPA and dreams of becoming an actor, said he is "very proud" that the two of them have worked together to overcome tough financial circumstances so that they could pursue their degrees and get ahead.
"Miami Dade College opens their doors to everybody," Salomon said. "They have really good teachers, and it's a great institution."
Added Samuel: "MDC brings you opportunities. All you have to do is take advantage of them because the College is full of resources for all of its students."
— WV
More Features Articles