---
Making Their Mark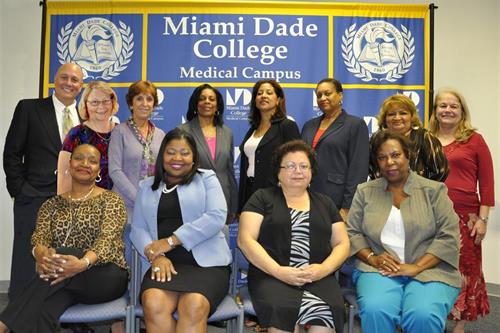 MDC Dozen Makes 'Great Nurses' List
Nursing faculty and administrators from Miami Dade College's Benjamín León School of Nursing claimed 12 spots on the Florida Nurses Association (FNA) 2013 list of Great 100 Nurses.
Representing 250,000 registered nurses throughout the state, FNA presents the Great 100 awards annually to honor dedication to student success, administration of support to students and the community, as well as their reputation among nurses in Florida.
"This recognition represents the incredible work of our Medical Campus nursing faculty and their devotion, hard work and commitment to our students' success," said Dr. Armando Ferrer, president of MDC's Medical Campus.
This year's award recipients were selected by blind reviews from FNA members across Florida and include honors for Miami Dade College in these categories:
Administration: Nurses who demonstrate excellent team-building and management skills, maintain a stable workforce and enhance the work environment.
Dr. Amy Pettigrew
Dr. Lenora Yates
Community: Nurses who are recognized for problem-solving and innovative skills, as well as serving as community leaders in various health-related activities.
Doris Edwards
Bonnie Hammack
Constance Miller
Education: Nurses who are employed as an experienced faculty member or nurse educator in a nursing program and who are recognized as excellent teachers, have received grants for teaching and apply innovative methods in the educator role.
Dr. Yamina Alvarez
Dr. Carol Petrozella
Guillermo (Billy) Valdes
Role Model: Nurses who demonstrate excellence in two or more categories.
Dr. Marie O. Etienne
Annette Gibson
Yolanda Nitti
Roxana Orta
— Staff Report
More Making Their Mark Articles