---
Making Their Mark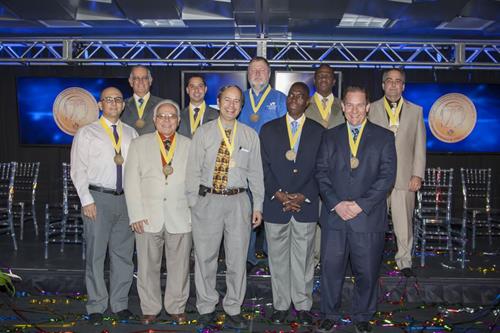 MDC Labs Are Vital Locus of Discovery
Miami Dade College's science professors are as innovative in the laboratory as they are in the classroom, and that fine work does not go unnoticed. In recognition of their dedication to advanced research, MDC's School of Science recently presented Distinguished Science Research Awards to faculty members for their role not only in conducting important research but also in serving as mentors to undergraduate students.
"We highly value the commitment these professors have to our institution, to our students, and to the progress of science itself," said Malou C. Harrison, interim North Campus president. "Engaging in research helps faculty make significant contributions to their respective disciplines, while engaging with students and fostering their growth and scholarship. These individuals are serving as colleagues, supervisors, role models and mentors, making a difference in the advancement of science instruction here at Miami Dade College."
College administrators, faculty and students attended the awards, which honored 11 faculty members who each received a bronze medal depicting Leonardo Da Vinci's Vitruvian Man.
Commenting on the crucial role of scientific investigation at the College, MDC Dean of Science Dr. Heather Belmont said, "The faculty recognize and value the research and believe that it enhances the overall teaching experience at Miami Dade College. It allows them to reach their students in a way that promotes scholarship, science careers and hands-on learning that ultimately helps the students succeed in the classroom."
— MR
More Making Their Mark Articles