---
Making Their Mark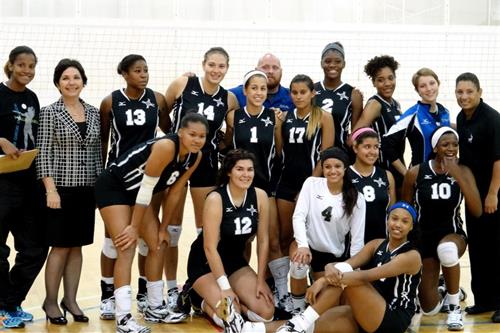 Going for the Power Play
Miami Dade College's women's volleyball team, led by veteran coach Kiko Benoit and 5-foot-11 sophomore Wendy Romero, recently won the Southern Conference with an 8-0 record and will be competing for a state and possibly even national honors this season.
Benoit, in his ninth season as MDC's head coach, has already won six state titles and has finished second in the nation twice.
This year's team, Benoit said, could rank among MDC's most talented. "We are deeper in hitters than we've been in a while," Benoit said.
Romero heads the team's list of talented players. She was the Southern Conference Player of the Year last season, and she also made first-team All-State. In addition, she played for the Venezuelan Olympic team in the 2008 Summer Games in Beijing.
But she is far from the team's only star.
World-Class Players
Silvia Galeano, a 5-10 freshman from Colombia, made the Women's Under-20 World Championship team. She helped her country finish 13th out of 20 teams that qualified.
Eirini Chatziefstratiadou, a 6-1 freshman middle blocker from Greece, surely has one of the longest names in college sports. But there is more to her than that distinction. The physical therapy major has played for Greece's Junior National team and could end up competing professionally in Europe if she continues to develop under Benoit's guidance.
Supporting those three are Paola De Ayala, a 6-0 sophomore from Orlando; Kayla Monsanto, a 5-10 freshman from Lakeland; and Lakelia Cooper, a 5-11 sophomore from Key Largo.
Perfect Pair
Even with those six powerful hitters, the Sharks' success this season will likely come down to a pair of much smaller players – 5-6 sophomore setter Haley Foote of Deland and 5-7 freshman setter Carelis Rojas of Puerto Rico.
Instead of using just one main setter, the Sharks have those two, which means that Foote and Rojas have to be in sync if the MDC offense is to execute at its highest level. In essence, the two setters have to mirror each other's passing styles to ensure there are no disruptions in flow.
"By using two setters, we will always have three strong hitters up front," Benoit said.
— WV
More Making Their Mark Articles