---
Making Their Mark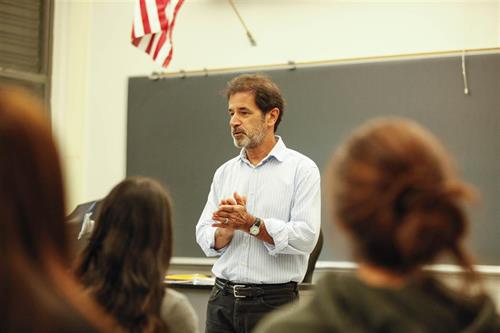 Writing Professor Is an Inspiration
For more than two decades, Professor Michael Hettich has given MDC students the discipline to develop their writing skills and has encouraged them to see writing as a process of focused thinking. Practicing what he preaches, he serves as an inspiration to them by also composing his own award-winning poetry.
Most recently, Hettich's book-length manuscript, Systems of Vanishing, was recognized with the 12th annual Tampa Review Prize for Poetry; it will be published during National Poetry Month in April. Poems from this work also earned him an Individual Artist Fellowship from the Florida Division of Cultural Affairs for 2013.
Hettich's latest work marks the sense that the ways of life we've always known, including the ways in which people interact with one another, are vanishing all around us. He draws inspiration from Native American legends, American and English poetry, Anglo-Saxon folklore and stories told around fires long ago.
Through his work in and out of the classroom, he is continuing to stoke a fire for learning in MDC's students.
— NG
More Making Their Mark Articles