---
MDC News Bytes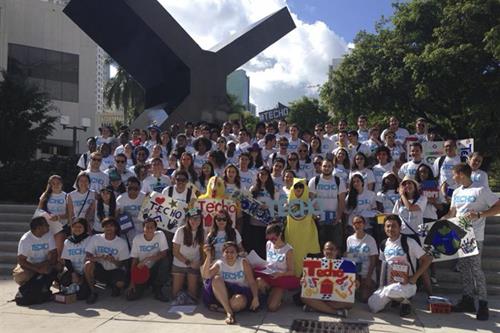 Students Combat Poverty
As part of Hispanic Heritage Month, MDC students joined hundreds of youth volunteers throughout the city to raise funds to combat poverty in Latin America through the youth-led nonprofit organization TECHO. Nearly $70,000 was raised as part of the first annual Colecta fundraiser in Miami.
The students collected donations at more than 50 locations in the county to help fund the construction of homes. They also handed out information to raise awareness about the living conditions of families in extreme poverty.
"Almost none of the 1,013 registered volunteers had ever set a foot into or even seen images of the extreme poverty that TECHO works with. They did not come out because of mere idealism, but because we are part of a generation that thrives on results and understands that our work is our protest," said Nicolas Berardi, CEO of TECHO-US.
MDC jointly sponsored the event with Univision and The John S. and James L. Knight Foundation.
— AMS
More MDC News Bytes Articles