---
Academics
Funeral Service Program Celebrates Major Milestones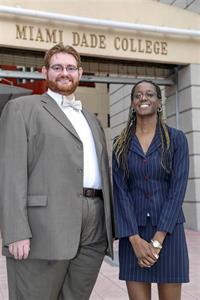 MDC Funeral Service Education Program Coordinator Joseph Finocchiaro and student April Dorsey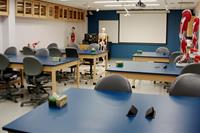 MDC's Funeral Service Education Program recently renovated classrooms and facilities.
MDC's Funeral Service Education Program proudly marks its 50th anniversary this year, and the program – the oldest and largest in the state – has plenty to celebrate.
Unrivaled Facilities
The esteemed program at the College's North Campus recently received a flawless re-accreditation by the American Board of Funeral Service Education (ABFSE), the national academic accrediting agency for college programs in the field. The program's facilities also recently underwent a $1 million renovation, and its classrooms and labs now boast state-of-the-art equipment and technology that is unrivaled in the more than 50 other university programs accredited by the ABFSE.
"This is an environment with the best that academia has to offer," said Program Coordinator Joseph Finocchiaro. "Our classrooms mirror the modern amenities of MDC's renowned Science Complex, with video and sound equipment, touchscreen computers, drawing tablets, laptops, the most up-to-date equipment and more."
Miami Dade College's program provides a distinct advantage as the only accredited mortuary science program in the state that offers all requirements on campus, including embalming lab clinicals.
"We also have a unique embalming lab among all the other schools because we have an observation gallery," Finocchiaro said. "Our lab serves more like a teaching medical college."
A New Generation
In addition to the Associate in Science degree, the Funeral Service Program will implement a College Credit Certificate later this year, enabling students to obtain the minimum qualifications necessary for a funeral director-only license in the state of Florida.
The program's curriculum as a whole has been updated to meet the changing needs of the industry.
"Our goal is to create fully functioning, critically thinking graduates capable of entering the industry as  licensees and being immediately employable," Finocchiaro said, adding that the program has a placement rate of more than 95 percent for its graduates.
That's one of the reasons student April Dorsey chose the program. She hopes to be the fifth generation to run her family's Ft. Myers funeral business. In fact, her mother, father and two brothers have all gone through MDC's program.
"Many of my family members have sat in the same classrooms I do today," she said. "MDC has been a wonderful asset to our family and our business."
— AMS
More Academics Articles