---
Academics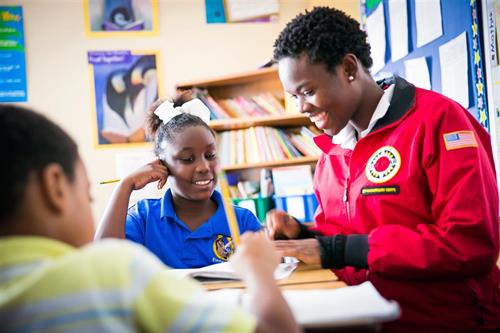 Turning a Year of Service Into a Rewarding Career
Spearheading a win-win innovation that is being reviewed as a national model, Miami Dade College's School of Education has partnered with City Year to create a new generation of passionate and highly qualified teachers.
The Power of Synergy
Through MDC's credit-by-portfolio program, City Year volunteers – baccalaureate holders who dedicate a year to working with students in the county's lowest-performing public schools – will receive six credits from the School of Education's Educator Preparation Institute for their classroom experience. In the spring, they will complete the remainder of the Institute's 15 credits worth of coursework. As a result, City Year volunteers will be completing their rewarding year of service to the community with two additional rewards: a certificate of professional preparation from MDC and a Florida professional teaching certificate.
"We felt that this was a great group to try to capture and bring into the teaching profession," said Dr. Susan Neimand, director of MDC's School of Education. "They are so enthusiastic about what they are doing, and therefore we have to keep them."
Budding Potential
Neimand spotted the volunteers' potential as teachers at workshops hosted by the School of Education on Common Core Standards. "At City Year, they are getting a complete experience, very similar to what our teachers get," Neimand said. "They do tutoring, they work with students on self-esteem, and because they've already been in our schools – and the ones that need the most support – we're very interested in them and trying to make them full teachers."
What's more, some of the students have bachelor's degrees in critical shortage areas that could help fill the needs of the Miami-Dade County Public Schools.
City Year is reviewing the MDC program and seeking corporate sponsorships to potentially adopt it on a national scale.
— MR
More Academics Articles