---
Features
Reading and Succeeding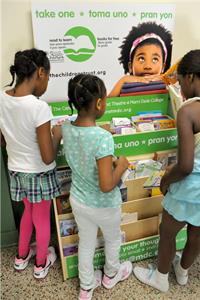 The Read to Learn Books for Free program has thousands of free books at nearly 20 locations throughout South Florida.
The Center for Literature and Theatre @ MDC is putting thousands of books into the hands of children to encourage early literacy through its Read to Learn Books for Free program.
With partners including The Children's Trust and the United Faculty of Miami Dade College, The Center is working to bring more than 120,000 books to children throughout Miami-Dade County by placing bookshelves full of free books in areas where families often visit together, including clinics and doctors' offices, public housing offices and community service centers. Vibrant signage invites children to take a book and keep it, and the shelves are regularly restocked.
Thousands of Books
The Center is delivering an average of 3,000 books per week to nearly 20 locations, with plans to double the locations where Read to Learn Books can be found. Through important community partnerships, book drives have been established at dozens of local businesses, including a highly successful drive at 32 Navarro pharmacies in South Florida.
The goal of the Read to Learn Books for Free program is to help ensure all children in Miami-Dade County will read at or above grade level by third grade.
Currently, half of all third-graders fail to read at grade level. Studies show children not reading well by third grade are four times more likely to drop out of high school.
A Happy Ending
"The goal of this program is to improve kids' attitudes toward reading and learning, which in turn has a positive effect on their educational and psychological outcomes," said Bess Perry, project coordinator for The Center's Read to Learn Books for Free program. "We want all their life stories to have happy endings."
Businesses interested in hosting a book drive or adopting a bookshelf can call 305-237-7418.
— AMS
More Features Articles