---
Features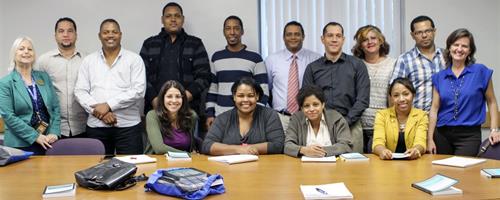 Transcending Language Barriers
A vital point of reference for educators nationally and around the world, MDC's School of Education (SOE) recently hosted a dozen teachers from the Dominican Republic sent by their government to learn and bring back best practices in English for Speakers of Other Languages (ESOL) teaching.
Customized Approach
In an effort to boost English language skills among Dominican high school students, education specialists at the U.S. Embassy in Santo Domingo joined forces with MDC's SOE to improve the teaching of English in the country's classrooms. The result: an intensive six-week, five-course ESOL training program for Dominican teacher-trainers.
The five courses focused on culture, applied linguistics, methods of teaching ESOL, ESOL curriculum and material development, and assessment.
Immersive Experience
But not all of their learning took place inside the classroom. The educators were immersed in an American experience as unique as the city in which they were hosted.
In addition to regular classroom hours and special speakers, the teachers enjoyed clinical experiences, sitting in on ESOL classes at public schools and English for Academic Purposes courses at MDC. Coinciding with Thanksgiving, their stay was enriched by this cultural tradition, as well as excursions to Everglades National Park, Zoo Miami and other local attractions.
"There are thousands of high school students in the Dominican Republic learning English," said Dr. Susan Neimand, director of MDC's School of Education. "These educators have received a very rich experience as English language learners in Miami that they will be able to translate into better preparation for teachers of English in their home country."
— MR
More Features Articles