---
Features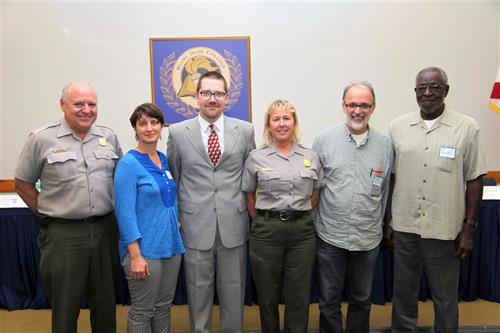 Glimpses of the Glades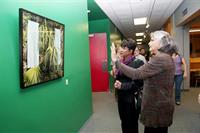 Enjoying the exhibition's opening events were MDC Homestead Campus President Dr. Jeanne Jacobs, center, and MDC Professor Peggy Nania.
Showing students and the community the beauty of the subtropical wilderness right next to them, MDC's Homestead Art Space recently offered an insightful panel discussion at the opening of Fresh AIRIE: Artists' Experiences in a World Heritage Site. The traveling exhibition featured works by more than 30 artists who spent month-long residencies in Everglades National Park, creating inspiring paintings, photographs, videos, audio compositions and poetry.
The exhibition's opening lecture, led by Everglades National Park Superintendent Dan Kimball, featured guest speakers who shared their experiences of living and working in a World Heritage Site. Among the panelists were writer Bill Maxwell, composer Gustavo Matamoros and Everglades National Park Chief of Public Affairs Linda Friar.
"Everglades National Park is proud of its World Heritage designation," Kimball said. "This recognition highlights the international importance of this unique resource as one of the globe's most significant cultural and natural areas. Now aspects of this very special place have been captured by the talented artists in this exhibition."
South Florida is home to the only subtropical wilderness area in the country, and Artists in Residence in Everglades (AIRIE) is the only program bringing artists to the Everglades. The Fresh AIRIE exhibition was made possible through a generous grant from Robin Tauck, of Tauck Romano Innovative Philanthropy, and AIRIE programs are supported by the John S. and James L. Knight Foundation through the Knight Arts Challenge.
"It is important to expose the campus and local community to this unique destination, located within our reach and known worldwide as the 'River of Grass,' " said MDC Homestead Campus President Dr. Jeanne Jacobs. "Art education is a critical part of the academic equation and creates an atmosphere that inspires learning and innovation."
— BK
More Features Articles