---
Making Their Mark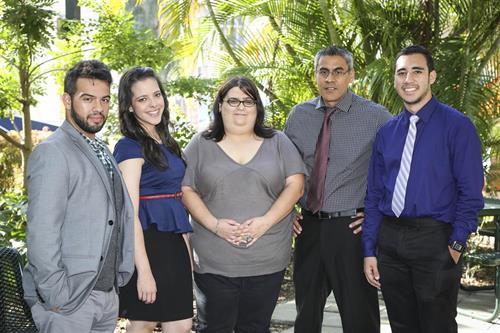 The 'Write' Stuff
Three years after merging its three student newspapers to form the largest state college student publication in Florida, Miami Dade College's The Reporter is gaining statewide and national recognition as a stellar publication and setting the bar for others to follow.
For the third straight year, The Reporter was named the top student newspaper in the state by the Florida College System Publications Association (FCSPA). The paper's staff also placed in 16 of 18 individual categories – including 10 first-place awards – and two members received Inner Circle awards for placing among the top three in at least three categories.
The paper, which is distributed collegewide and has newsrooms at North, Wolfson and Kendall campuses, has won 48 awards from the FCSPA in the past three years, including 28 first-place honors.
"This award is a testament to the hard work and dedication the staff of The Reporter put into the newspaper," said Karla Barrios, who served as editor last year. "I'm proud of every single person who was a part of this great achievement. Last year we were lucky to have amazing stories to report on. We were taken outside of our comfort zone every issue, and we learned a lot from our experiences."
Setting the Pace
On the heels of this impressive accolade, the paper was honored with a prestigious Associated Collegiate Press National Newspaper Pacemaker Award. Considered by many to be college journalism's equivalent of a Pulitzer Prize, Pacemaker awards are given based on strength of coverage and content, quality of writing and reporting, leadership in the opinion page, evidence of in-depth reporting and outstanding design, photography, art and graphics.
Two staff members also were selected as 2013 finalists in separate categories. Senior photographer Gregory Castillo was awarded first-place in the country in the Sports Picture category for a photo he took of Miami Heat superstar LeBron James. Agustin Toriz, who served as the paper's art director, received an honorable mention in the Newspaper Page/Spread category for his work on "The Faces of Deferred Action."
"This award means so much to so many of us," Castillo said. "When we came together in 2010 to create The Reporter, we knew that we wanted to tell amazing stories through powerful journalism. This last year was full of many trials and tribulations for our staff, but we came together and put out a product we are proud of."
— AMS
More Making Their Mark Articles