---
Making Their Mark
Indebted to MDC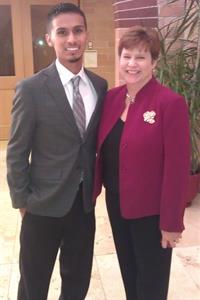 After the competition, MDC graduate Rodney Castillo visited with Dr. Sharon Lassar, director of the Daniels College of Business School of Accountancy at the University of Denver.
Rodney Castillo's journey from struggling financially to receiving an American Dream scholarship at MDC and now launching a potential career as an accountant is one of those feel-good stories about a young man unafraid of hard work.
Born in Los Angeles to Guatemalan parents, Castillo is a natural at accounting, perhaps because he has had lots of experience tracking what he earned to help his family with the bills.
"Since I was 10 years old, I worked summer jobs in landscaping, construction or at a nursery," he said. "When I would go to Guatemala to visit my grandparents, I would help them plant corn every season."
Enterprising Teen
As he got older, Castillo started his own business as a barber, working out of his parents' home on weekdays and a flea market on weekends.
"I learned to manage money," he said.
But his future really started to brighten when he enrolled at MDC's Homestead Campus.
"At first, I was majoring in social work," Castillo said. "But when I took my first accounting class, I was hooked."
Award-Winning Work
MDC Professor José Hortensi saw Castillo's potential and soon recommended him for a 2013 University of Denver accounting workshop, where Castillo won the Best Group Presentation award. This success and Castillo's academic track record at MDC led to his receiving a scholarship for both bachelor's and master's degrees at the university, where he is set to graduate by 2016. Best of all, the teammates from other colleges who won with him are now his friends and classmates.
Well aware of the cost of a great education, Castillo said he feels indebted to MDC.
"The College has helped me a great deal," said Castillo, who graduated from MDC in May 2013. "Once I get the master's degree, I will be able not only to help my family out a lot more, but also to give back to MDC. I plan to return and mentor students and donate money. I want to help out MDC the way they helped me out."
— WV
More Making Their Mark Articles