---
Making Their Mark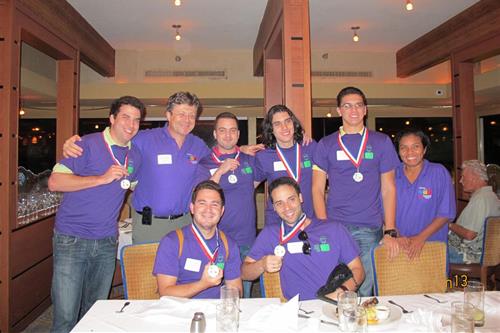 Catching IBM's Eye
A brilliant group of MDC students recently beat the competition to nab first and second place in the state at the annual Association of Computing Machinery International Collegiate Programming Contest held at the Florida Institute of Technology in Melbourne.
MDC, the only two-year school at the event, faced other top four-year institutions from around the state, including the University of South Florida, Nova Southeastern, University of Florida and Florida Southern College.
Miami Dade College submitted two teams, with both defeating their state rivals. The first-place MDC team included Lázaro Alvarez, Carlos Galguera and Sandro Del Valle Arocha. The second-place team was comprised of Joseph Casal, Carlos Sánchez and Jorge Varela. Center of the Action
"We put MDC on the programming map in this most recent competition," said Professor Adnan Zejnilovic, who serves as head coach. "Our team members were courted by IBM, which was one of the sponsors of the event."
Founded at Wolfson Campus in November 2012 by Zejnilovic, the powerful MDC programming team has since added two advisors and two locations to the mix: Professor Alicia Ibarra at Hialeah Campus and Professor Hien Nguyen at MDC-West.
"The three of us work really well together," Zejnilovic said. "Alicia and Hien handle new recruits, getting them up to speed, and I work with team members who are preparing for competitions."
Fierce Devotion
Nguyen is especially impressed with the teammates' commitment to hard work: "Our students showed tremendous discipline and determination. They were consistent in their training and very goal-oriented. Even when school was closed for holidays, we still had training sessions."
Besides the glory of winning, there are additional long-term advantages to this tough training and challenging competition, Ibarra added.
"Companies get to know our students, and that opens up job possibilities for them," she said. "It's a wonderful opportunity."
— WV
More Making Their Mark Articles