---
Making Their Mark
A Golden Beginning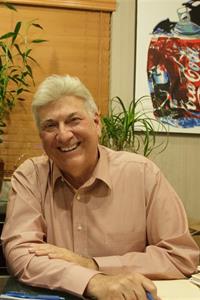 Alumnus Mel Tenen
Alumnus Mel Tenen and MDC President Dr. Eduardo J. Padrón share a part of history that makes them pioneers in the College's amazing growth.
In August of 1970, Tenen was 18, and the first class of his collegiate career was on a Monday morning at 9 a.m. in what was then MDC's brand new campus in Downtown Miami.
As it happens, his professor was Padrón, who was 26 at the time and teaching his very first class.
Unforgettable Day
"I remember it vividly," he said. "Padrón was fresh-faced, rosy-cheeked, eager and energetic. He was teaching Social Science 101, and it was the first day of his illustrious career.
"It wasn't even called Wolfson Campus then. It was the Downtown Campus, and all we had were six classrooms in what used to be storefronts, about a block away from the current location."
Tenen learned a lot at MDC, where he graduated in 1972. He then got a bachelor's degree from the University of South Florida, majoring in sociology and management, and went on to become vice president of Flagler Federal Savings & Loan.
He had a second career as an assistant vice president at the University of Miami and now is semi-retired, working as a consultant for a vending company.
Pure Happenstance
Recently, Tenen, now 61, attended an event at the Coral Gables Country Club, where he ran into Padrón for the first time since 1970. When he introduced himself and shared his story with Padrón, he got an immediate reaction.
"His eyes lit up," Tenen said. "He said: 'You made my day.' And now, 44 years later, Dr. Padrón is still going strong."
Tenen said MDC was an important part of his life.
"It started my academic career," he said. "And even then, there was excitement and energy because we knew we were part of something special in that inaugural class."
— WV
More Making Their Mark Articles