---
Making Their Mark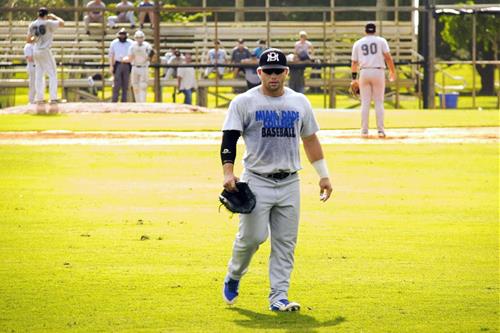 Packin' a Powerful Punch
Miami Dade College is known for its open-door policy academically, but the Sharks' athletic teams have a similar reputation for fairness.
Case in point is the MDC baseball team. Coach Danny Price gave an opportunity last season to outfielder José Gómez, a player overlooked by numerous colleges, likely due to his stature of 5-foot-5.
Gómez tried out for the Sharks in the fall of 2012. He was impressive enough to make the team as a walk-on, meaning that – unlike most of the rest of his teammates – he was not given a scholarship in recognition of his baseball talent.
Despite that, Gómez became one of the stars on the Sharks, hitting .390 and drawing interest from pro and four-year college scouts.
Unbeatable Attitude
"José is going against the odds because he's a small guy," Price said of Gómez, who is now an MDC sophmore. "But he's fast, has a great arm and plays with a chip on his shoulder that makes him seem like he's 6-foot-2.
"He also has tremendous character. He plays hard and is a team leader. I feel lucky to have had the opportunity to coach him."
Price and Gómez admit that 5-5 might be stretching it a bit when it comes to the player's actual height.
"He's built like a fire hydrant," Price said, "but a fire hydrant who can move."
Gómez, who is focusing his studies on sports management, left Cuba with his family at age 7 and grew up in Hialeah. His work ethic – whether it's on the field or in the weight room – has made him popular with his teammates.
Breathtaking Plays
"I love José," MDC pitcher Kyle Carter said. "Size doesn't matter to him. He's always diving around, sliding around. It gives me the chills just to watch him play."
Gómez said "it's an honor" to know that his coaches and teammates have respect for him.
And Price said Gómez – a "yes-sir, no-sir" type of young man – is very appreciative of the opportunity he has received at MDC.
"He has really touched my life," Price said. "I don't think he ever leaves the park without telling me he loves me."
— WV
More Making Their Mark Articles