---
Making Their Mark
The Comeback Kid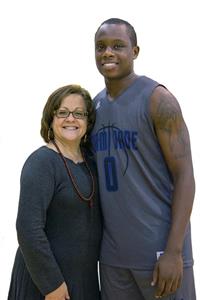 MDC Professor Sandra Castillo helped MDC star basketball player Darius Perkins by coaching him in his academics.
When Darius Perkins is playing basketball on national television next season, Sandra Castillo will be among the MDC professors who can take special pride in his accomplishments.
Perkins, an MDC sophomore studying business administration, improved his GPA by a full point thanks to the support of Castillo and MDC.
"She's a very hands-on and enthusiastic professor," said Perkins, a 6-foot-2 guard who is a native of Fort Myers. "She really helped me grasp the information."
Thanks to the lessons in time management he gleaned at MDC, Perkins was able to better manage his studies, buckle down on his assignments and earn a basketball scholarship to Utah State, an emerging power in the sport.
Down to the Wire
"I knew it was either now or never," Perkins said of the need to improve his grades. "I didn't want to be that kid who everyone said had talent but didn't take care of business in school."
Perkins led MDC with an 18-point scoring average early last season and had drawn recruiting interest from four-year universities such as Minnesota, Kent State and Iona College.
But when Perkins' grades slipped, all of them except Utah State lost interest.
"That was a humbling experience," said Perkins, whose father, Tony, is a high school teacher and coach in Fort Myers. "It was embarrassing."
Hidden Talents Discovered
Perkins has turned his career around, however, and Castillo couldn't be happier.
"He is really a terrific student, the type everyone wanted to work with," said Castillo, who taught a history course that Perkins took. "Through the group activities we had in the class, he found his strength as a writer. He writes very well, and that was something that maybe he didn't realize before."
— WV
More Making Their Mark Articles