---
Features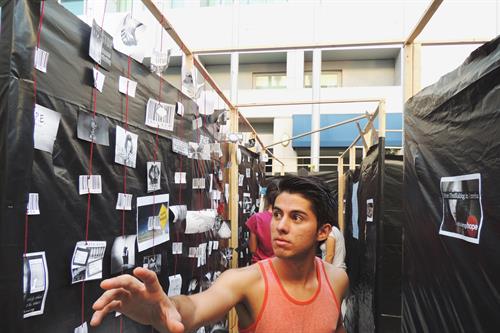 Corridor of Hope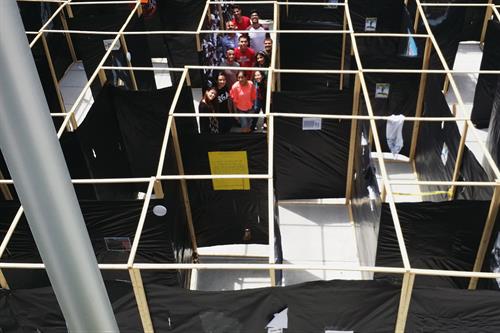 Students at MDC's InterAmerican Campus designed and built a 1,600-square-foot maze to depict the often insurmountable challenges faced around the globe by victims of human trafficking.
With bleak, 8-foot-high walls and pathways to nowhere lurking inside, the powerful Human Trafficking Maze, conceived and constructed by MDC's Student Leadership Academy (SLA), had a forbidding presence. The SLA students at InterAmerican Campus built the 1,600-square-foot maze as a visual representation of the struggles associated with human trafficking.
"The students' idea was to make the maze a symbol for what victims of human trafficking face," said Matthew Sang, SLA faculty advisor.
Beyond a Superficial Understanding
"Just as our community struggled to get through the maze, other communities have struggled with the presence of human trafficking," said Jazmina Olivas, an SLA member who worked on the project. "The intent of our maze was not only to raise awareness of this issue, but to educate our local community on how difficult it is for someone to escape human trafficking once they are trapped in it." 
Human trafficking is an especially pernicious global issue, as traffickers typically prey on youth or those in vulnerable situations, such as laborers who are lured abroad with dubious promises of well-paid work only to find themselves powerless in a foreign country.
Falling Into the Web
The MDC students used the structure of the maze and infographics to inform visitors who navigated the labyrinth about homelessness, drug abuse and other dangers that afflict those ensnared in the web of human trafficking.
Along with the dead ends, there was also a Corridor of Hope at the center of the maze. "You had to pass through it to exit," explained Olivas. "It contained strings of images with motivational quotes, and it is also the area of the maze where the most light came through, symbolizing hope and freedom."
More Features Articles