---
Powerful Partnerships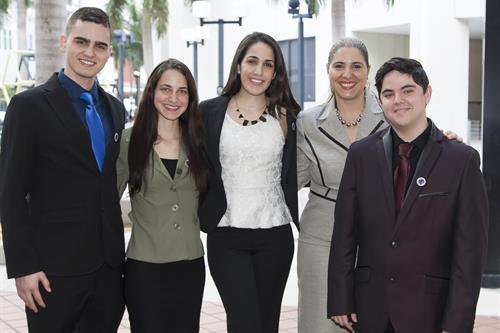 Bridge to Success
There are no shortcuts from dissecting that first frog in high school biology class to conducting cutting-edge studies at the nation's top research institutes. A lot of drive, hard work and talent are required to succeed. Yet Miami Dade College has found an innovative way to inspire more students to pursue careers in biomedical research by creating opportunities for them to be involved in intriguing investigative work much sooner.
The Bridge to the Baccalaureate Program at MDC enables students to work with experts in the field long before they enter grad school. In fact, by the time they finish their first year in MDC's associate program, they already have completed 400 hours of research in labs at the University of Miami (UM).
Winning Student
Rafael Gutiérrez, an MDC Honors College student and a sophomore at InterAmerican Campus, knows firsthand the value of this one-on-one interaction with top scientists from around the globe. It helped prepare him to win a national award for his research work in vascular calcification enzymes. 
"Miami Dade College's Bridge to the Baccalaureate Program gave me opportunities I never dreamed of as an undergraduate student," he said. "I had a co-mentor at UM who is a lead researcher from China, and I partnered with a student from Haiti. The international connections brought new perspectives to our work."
The Bridge Program is a unique collaborative effort of MDC's School of Science, The Honors College at MDC and UM. Thanks to a generous $1.5 million grant from the National Institutes of Health (NIH) at the U.S. Department of Health and Human Services, the program is designed to increase the number of Hispanic, Native American and black students who pursue careers in biomedical research.
Exceptional Support
In addition to the helpful mentoring by faculty, MDC's Bridge to the Baccalaureate Program offers other outstanding highlights designed to ensure life-long student success. These include a competitive admission process, a supportive cohort structure, a biology pathway to an associate degree and use of the exceptional research facilities at MDC's North Campus and UM. The program also offers participation in research conferences nationwide and the opportunity to publish in renowned scientific journals. All these components then enable the successful transfer to top universities around the country.
To date, 125 MDC students have participated in the Bridge Program at MDC's InterAmerican, Kendall, North and Wolfson campuses.
— BK
More Powerful Partnerships Articles