---
Powerful Partnerships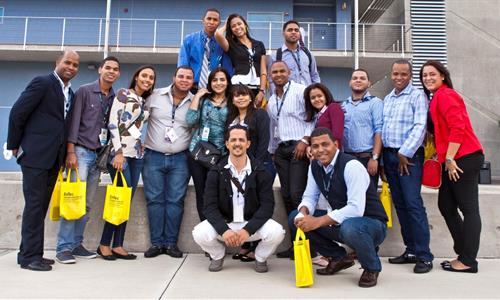 Improving the Next Millennium
Uniting their efforts for social change in the Dominican Republic, a delegation of 50 youth community leaders from the Caribbean nation recently met at MDC's Wolfson and North campuses for the III Conferencia del Milenio 2013 (Millennium Conference). The event was organized as part of the United  Nations Millennium Development Goals initiative to help eradicate health, social and economic problems throughout the globe.
Comprised of college students, professionals and community organizers, the group worked together throughout the year to create sustainable projects to improve their local communities. As part of the conference, MDC organized several workshops, including a presentation by Wolfson Campus President Dr. José A. Vicente on the role of education in personal and global development, a panel discussion on community partnerships moderated by MDC Hialeah Campus President Dr. Matilde Roig-Watnik and a discussion on the role of family in society led by Gremaud Angee, national assignment editor at Spanish-language network Telemundo.
Participants toured several of MDC's state-of-the-art facilities, including North Campus' Science Complex, the School of Entertainment & Design Technology and MDC-TV. The group was warmly greeted by the Consulate General of the Dominican Republic Amaury Ríos, along with MDC's Dominican Student Association, which plays an active role in the global community.
The Conferencia del Milenio concluded with a visit to the local Chapman Partnership Center for the Homeless to observe how nonprofit organizations operate in the U.S. "The Millennium Conference at MDC gave these young leaders insights into ways to transform their world," said Isabel Martínez, the MDC liaison who organizes the conference with the collaboration of a nonprofit in the Dominican Republic. 
— BK
More Powerful Partnerships Articles