---
Academics
Ready to Advocate for Others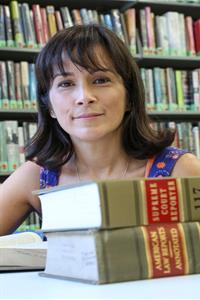 Wtih the skills Milagros Lezcano-Peter is learning in MDC's Paralegal Program, she is now poised for career success.
At Miami Dade College, a military wife, mother and full-time employee now is making the time to earnestly pursue the career for which she has prepared for a lifetime.
"Ever since my son was born, I've focused on working hard for our family," said Milagros Lezcano-Peter, 39. "I've had so many jobs, including teaching. But each time my husband was stationed in a new city, I had to get recertified. Now I'm ready to put all these life skills to good use by becoming a paralegal and advocating for those who often don't have a voice."
Renowned Program
For more than 25 years, MDC's Paralegal Program has been nationally recognized by the American Bar Association (ABA) for its exceptionally high standards. It is the only ABA-approved program in Miami-Dade County and one of only nine programs in Florida. In addition, the ABA recently granted MDC's request to expand from Wolfson and Kendall campuses to a third location at North Campus.
MDC's flexible schedule has been a godsend for Lezcano-Peter, who begins her days at 4:30 a.m., working as a receptionist at a hotel in order to attend evening classes. "Encouragement and support from my family help get me through the long nights," she said.
Soon she and her son both will be celebrating their MDC graduations. He recently finished an associate degree in nursing at Miami Dade College and plans to continue with the bachelor's program in MDC's acclaimed Benjamín León School of Nursing.
For her part, Lezcano-Peter is currently in her second semester in the Paralegal Program at Wolfson Campus, where her training is preparing her to take on new challenges.
"Going to Miami Dade College, I feel ready for anything," she said.
The Best Choice
MDC is the perfect place for Lezcano-Peter to ensure her future career success.
"An ABA-approved Associate in Science in Paralegal Studies becomes a valuable credential for our students to gain access to certification and registration opportunities within the profession," said MDC Law Center Director Marvelle McIntyre-Hall. "The expansion is one of our proudest achievements and is part of our mission to educate and inspire our students to become respected and accomplished professionals within the legal community."
— JG
More Academics Articles