---
Making Their Mark
The Perfect Plot for Success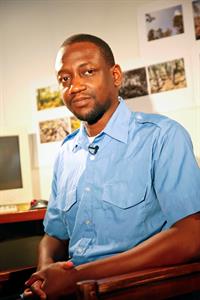 The work of MDC alumnus Adler Guerrier is on display at Pérez Art Museum Miami.
The buzz on renowned artist and MDC alumnus Adler Guerrier has grown to a fever pitch this fall with the opening of an extensive exhibition of his work at Pérez Art Museum Miami. Running through the end of January, Adler Guerrier: Formulating a Plot showcases the vast breadth of Guerrier's art, including sculpture, works on paper, photography and prints.
The critically acclaimed exhibition comes right on the heels of Guerrier's completion of his first public art commission at the Miami-Dade Fire Rescue Training Facility, where his vibrant installations greet visitors in the lobby and lend charisma to exterior gates and fences. This month his work is on view in Amerika at David Castillo Gallery. Next summer, he will be included in From Within and Without: The History of Haitian Photography at Nova Southeastern University Museum of Art Fort Lauderdale.
Guerrier represented the Visual Arts in MDC's 2012 Alumni Hall of Fame. He was selected for the prestigious Whitney Museum of American Art's 2008 Biennial and won the 2013 South Florida Cultural Consortium fellowship.
— MR
More Making Their Mark Articles