---
MDC News Bytes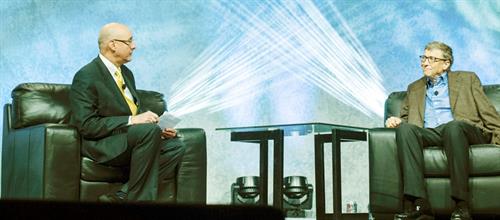 A Closer Look at Higher Ed's Books
MDC Provost for Operations Dr. Rolando Montoya recently moderated an interview session, panel and Q & A featuring business magnate, philanthropist and inventor Bill Gates during the plenary session of the National Association of College and University Business Officers (NACUBO) 2014 Annual Meeting in Seattle.
Organized by the Bill & Melinda Gates Foundation and NACUBO, Gates offered remarks on his perspectives about higher education administration and finance followed by an hour-long conversation with Montoya. Audience members asked questions on a variety of topics, such as technology, business models, higher education costs, performance-based funding, and other operational issues in relation to colleges and universities.
NACUBO is a membership organization representing more than 2,500 colleges, universities and higher education service providers across the country and around the world. It specifically represents chief business and financial officers through advocacy efforts, community service and professional development activities. The Association's mission is to advance the economic viability and business practices of higher education institutions in fulfillment of their academic missions.
More MDC News Bytes Articles