---
Academics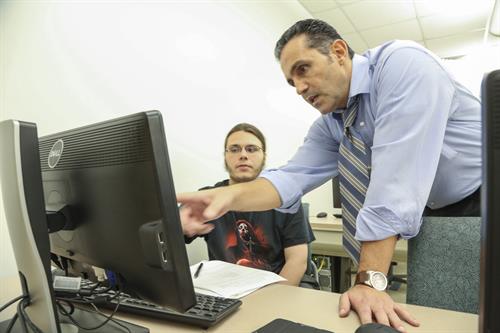 A Direct Link to Success
Life before smartphones, tablets and laptops is practically unimaginable. So it's no wonder that many of the best-paying, fastest-growing jobs today are in information systems technology (IST). MDC's newest bachelor's in the field is poised to produce competitive graduates for an abundance of lucrative tech positions.
Launched this fall, MDC's Bachelor of Science in IST is addressing a major workforce need. Tech giants and small businesses alike have been so desperate for skilled workers that 63 percent are outsourcing top positions to other countries, according to Business News Daily. Among those jobs are ones that rank among U.S. News and World Report's "Best Jobs of 2014," including software developer (No. 1), computer systems analyst (No. 2) and Web developer (No. 9) – all jobs that a Bachelor of Science in IST leads to.
"This degree opens a whole world of opportunity," said Professor Toribio Matamoros, technology chair at Miami Dade College's School of Engineering and Technology. "When you combine our faculty's dynamic knowledge, skill, hands-on training and industry connections with students who think big, we see dreams turn into solutions for success."
Combining this four-year degree's low sticker price with the high starting salaries that jobs in IST provide, graduates benefit from an incredible return on the investment in their education and, in general, a great head start on success.
To learn more about MDC's bachelor's programs, visit www.mdc.edu/bachelors.
— MR
More Academics Articles