---
Academics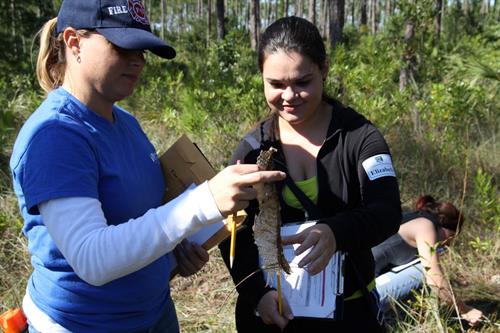 Lessons in the Ashes
A group of determined students in Miami Dade College's education program have been getting some grit under their nails, performing biological fieldwork in Everglades National Park.
The science education class, led by MDC Professor Dr. Marlene Morales, is taking a hands-on approach to learning how to teach science using an inquiry method, in part because of a paradigm shift showing active learning is more likely to stick in students' brains than facts learned passively through reading or lectures.
"Many of these students grew up in the city and have not had an opportunity to visit the Everglades and experience nature," Morales said. "There is often a 'Wow!' moment when they realize they can come to conclusions about the environment based on the basic data they are collecting themselves. It's eye-opening."
The students actively engage in their own discovery experience – similar to the way in which field biologists work. This helps them understand the importance of fire in ecosystems today, which helps them build their confidence in science content knowledge. As an added benefit, information the MDC students obtain helps park officials promote fire ecology.
"It sounds contradictory, but prescribed burns, which are fires set and controlled by park officials, help the Pine Rocklands environment thrive," said Morales. "The fires burn back invasive hardwoods that would choke the plant biodiversity found in this ecosystem, which provides an array of wildlife with the essential nesting and foraging habitat for their survival."
More Academics Articles