---
Academics
A Master of the Medical Records Morass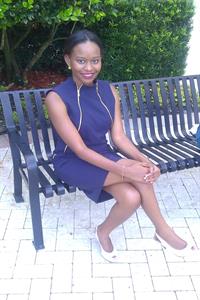 MDC student Sashey Bigot recently received the prestigious 2014 Florida Health Information Management Association (FHIMA) Scholarship.
Sashey Bigot doesn't graduate until May, yet her work is already drawing the attention of experts in her field who recently awarded her a Florida Health Information Management Association (FHIMA) Scholarship.
"I got a call early one morning that I had won the fellowship," said Bigot, who is studying health information technology at Miami Dade College's Medical Campus. "I asked, 'What fellowship?' I was so tired from working the late shift at my job the night before! Then it hit me, and it was so exciting."
Through Her Father's Eyes
Bigot has both an intellectual and personal interest in records technology. Her father suffers from a chronic illness physicians have struggled to diagnose that has had him in and out of hospitals both in the United States and Haiti.
This difficult experience inspired Bigot to act. "I saw how hard it is to get and manage information, and I discovered I have a lot of organizational and logistic skills from working in offices, so I wanted to use this to help resolve some of these issues for patients, families and medical workers."
The MDC Edge
Bigot credits MDC for giving students a head start toward their careers. "We go to clinics and meet with other medical professionals working in the field. We get a lot of experience, but it's also an important way of connecting classroom learning with what we will be doing in our careers. It gives us a professional edge. I am very proud to be in this program."
In addition to excelling in the classroom, Bigot finds the time to help others, said Mary Worsley, who directs MDC's health information technology program.
"Sashey is a great student," Worsley said. "She has conducted clinical hours in various community health care facilities, including MDC's Vision Care and Wellness Clinics. All this led to her receiving the Presidential Award for Service Learning and, in turn, the fellowship."
More Academics Articles